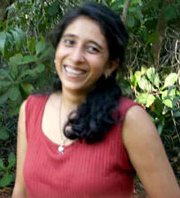 Dave and Natasha are part of the Evergreen community in the greenbelt of Auroville city in the south of India. Over breakfast, we told our new friends about our experiences at Findhorn, while we quizzed them on what it's like to live in Auroville.
The city was founded 40 years ago, with a vision to become a place of human unity, where 50,000 people could live together peacefully, beyond religion and caste structures, where people and relationships would be valued over money and competition.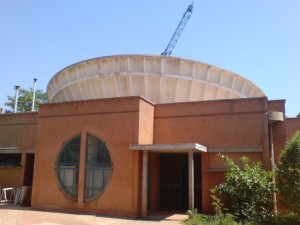 Currently 2,000 people call Auroville home. Its central structures are in place like the town hall, visitors centre, and the amazing community Solar Kitchen- built to cook up to 1,000 lunches a day just using the power of the sun. They have forward thinking 'Stiener' schools for the children, lots of ecological research and development projects and businesses.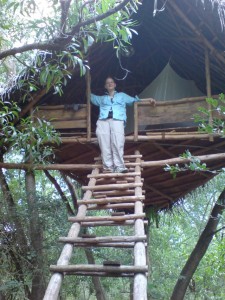 Dave and Natasha were drawn to Auroville because Dave wanted to live ecologically and Natasha wanted to live in community. They found some friends who were replanting the tropical evergreen forest, and started up a consultancy called Convergence. http://www.thepointofconvergence.org/index.html. Dave and I were touched as we participated in one of their conferences in deep ecology with inspiration from the academic approach of Arne Naess and the emotional sharing of Joanna Macy's work that reconnects. Dave and Natasha have built a beautiful home of local materials, their power is solar generated and their two children love school. As Aurovillians, they don't own their land, but are stewarts for the next generation. The City of Auroville gives Dave and Natasha a small monthly stipend and health care benefits. They belong to a food co-op supporting locally grown organic farming and a linens co-op.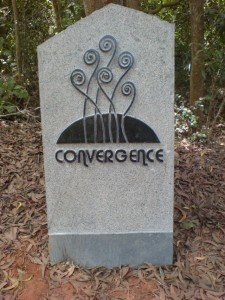 Natasha and Dave also expressed some frustrations with the way Auroville is progressing. Auroville is made up of many very small communities of 10-20 people and they can find it difficult to productively resolve conflicts and make decisions. Once, Dave and Natasha considered leaving, but decided on principle to stay and make it work. The transport system is lagging and the roads are unsafe at night, the distance between daily necessities is far and everyone drives a moped or a motorcycle. The plan for the future is to have all solar charged electric bicycles, no motor vehicles in the centre of the city and clean public transportation. An aspect of Auroville that we found disturbing was the division of labour. Only the local Tamil people were doing the physical labour, and not for the same pay as the Aurovillians. The city is certainly in progress and it is ascending the steep and rocky cliffs of growth and human development.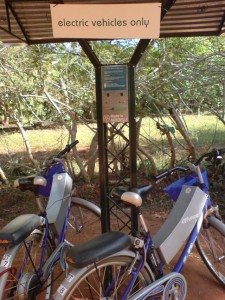 Dave and Natasha wake up every day knowing that the work they are doing is good for the Earth and good for people, and that keeps them going through 40 degree weather and cyclone storms. They live in a community where they can share childcare with their neighbours, their children can run free in the forest they are replanting and they belong to a city with a vision for the future of a peaceful world. Dave and Natasha we salute you as everyday heroes!!